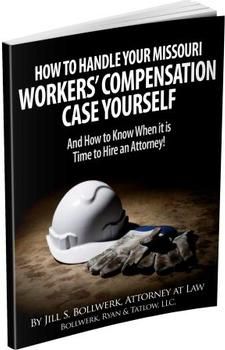 ATTENTION: If you've suffered an on-the-job injury in Missouri, there's a chance that you will be able to handle your workers' compensation claim on your own. However, be forewarned; there are many opportunities to make critical mistakes when pursuing a Missouri workers' comp claim -- mistakes that can limit your ability to collect benefits or get the treatment you need. Some mistakes can even sink your claim altogether.

The unfortunate reality is that the insurance companies involved in a workers' compensation claim usually have their own interests in mind, not yours. They often will look to minimize the significance of your injury and limit the amount of financial recovery or medical treatment you receive.

As a result, it's up to you to track down the information you need to protect you and your family -- information that can be found in this important FREE consumer guide from Bollwerk & Tatlow, LLC.

With extensive experience in making sure that injured Missouri workers are treated fairly under the law, workers' compensation attorney Jill Bollwerk has seen firsthand the types of mistakes that people make which can jeopardize their claim.

In this information-packed, easy-to-follow consumer guide, Bollwerk illustrates that it is sometimes possible to handle a Missouri workers' compensation claim on your own. But, just as importantly, she lets you know exactly when you should contact an attorney. Bollwerk also reveals:
The absolute first thing you must do if you've been hurt on the job.

When to seek medical treatment (and whether or not you can see your own doctor).

When you should begin receiving temporary total disability (TTD) and how TTD benefits are calculated.

What happens if you get sent back to work on light duty.

What to do if you are released back to work but are still in a lot of pain.

Why your employer requesting a second opinion about doctor recommended surgery could be a red flag.

The #1 reason why workers' compensation attorneys get called.

The

3

benefits that Missouri employers are obligated to provide.

What to do if your workers' compensation case is very complicated.

Suffering an on-the-job work injury can be frustrating and difficult. Don't make things worse by proceeding with a claim without the critical information that can help your case.

Missouri residents -- request your FREE copy of HOW TO HANDLE YOUR MISSOURI WORKER'S COMPENSATION CASE YOURSELF......AND HOW TO KNOW WHEN IT IS TIME TO HIRE AN ATTORNEY!

Before it's too late -- get the information you need to protect your rights. Fill out the form on the right or below to receive your free download of the Missouri workers' compensation guide from
Bollwerk & Tatlow, LLC.